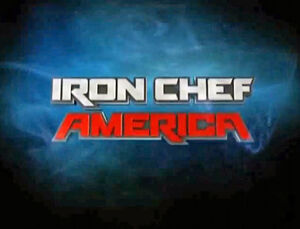 Iron Chef America is an American cooking show based on Fuji Television's Iron Chef, and is the second American adaptation of the series, following the failed Iron Chef USA. The show is produced by Food Network, which also carried a dubbed version of the original Iron Chef. Like the original Japanese program, the program is a sort of culinary game show. In each episode, a new challenger chef "battles" one of the resident "Iron Chefs" in a one-hour cooking competition based on a theme ingredient.
The show is presented as a successor to the original Iron Chef, as opposed to being a remake. The Chairman is portrayed by martial arts expert Mark Dacascos, who is introduced as the nephew of the original Japanese chairman Takeshi Kaga. The commentary is provided solely by Alton Brown, and Kevin Brauch is the floor reporter.
Per the introduction fiction from the Battle of the Masters miniseries (and ignoring story elements from the 2002 Iron Chef Japan Cup Special), Chairman Kaga (the character) has ordered his nephew to continue the tradition of Kitchen Stadium, this time in New York's Chelsea Market. For the inaugural battle, the elder Chairman dispatched two Iron Chefs: Hiroyuki Sakai and Masaharu Morimoto.
Unlike the original Iron Chef or Iron Chef USA, Alton Brown, rather than the Chairman, is credited as the show's host.
Mark Dacascos ... The Chairman
Alton Brown ... Host
Kevin Brauch ... Floor Reporter
Bobby Flay ... Iron Chef
Cat Cora ... Iron Chef
Masaharu Morimoto ... Iron Chef
Mario Batali ... Iron Chef
Michael Symon ... Iron Chef
Jose Garces...Iron Chef
Information
Edit
"During an ICA battle, I'm watching 8 different monitors which give me a pretty good overview of the action. I also have a culinary producer up in the booth who is constantly feeding information from floor spotters through my right ear. I also have a pretty chunky ingredient database I can refer too and a very speedy internet connection for looking things up." "On Iron Chef America I'm at the studio by 6:30 and leave around 8:30. Then I have a negroni and collapse." "The battle is 60 minutes but the show is only about 42 because of commercial breaks. Something has to be edited out so it's almost always the part where they stand around and figure out what they're going to do which usually takes place right after they grab all their ingredients." - Alton Brown[1]
References
Edit
↑ Food Network Chat, September 26, 2010 http://www.foodnetwork.com
Community content is available under
CC-BY-SA
unless otherwise noted.